About Us
Greetings
Protecting safe food ingredients and passing them down for future generations
-- This is where we started.
Since ancient times, local farmers in Japan have been working hard to cultivate crops carefully and painstakingly, supporting the safety and security of food. In addition, Japan has production technologies that it can boast to the world.
Looking at the entire country at present, however, we see fewer people engaging in farming. Healthy, delicious food ingredients produced lovingly and painstakingly have become rare.
As a food company, we have made it my policy to visit local farmers and retailers to see how food ingredients are produced and what dietary culture each region has. We only use and cook safe, secure food ingredients that we have checked in this way. These activities have made us aware that excellent food ingredients are not what we should look for, but what we must protect.
We started by working with farmers to deliver safe, delicious food ingredients.
Corporate Philosophy
Taking on challenges to pass down the happiness of living with security for future generations.
We work to create a society where people can live with security.
We think about the things that are really good for protecting the daily happiness of people, communities, and life and passing them down for future generations.
We do what we can do to achieve these purposes, just like parents do for the love of their children.
Corporate Profile
| | |
| --- | --- |
| Name | LOCO-SIKI Co., Ltd. |
| Established | June 1, 2018 |
| Capital | 5,000,000 yen |
| Head office | 305 Funabamukaikawakubo, Shichinohe-machi, Kamikita-gun, Aomori, 039-2742 Japan |
| Phone | +81-176-58-6669 |
| Facsimile | +81-176-58-6659 |
| Representative | Michiko Kudo, Representative Director |
Facility Description
Central Kitchen Kuon
The Central Kitchen Kuon is an HACCP-compliant food processing plant equipped with state-of-the-art hot-packing and liquid-freezing equipment. It is capable of producing 50,000 serves per day. At this plant, food that would be difficult to freeze without losing its texture and taste, such as yams, tofu, jelly and mousse, can be frozen while maintaining an extremely high level of freshness and original texture and taste, ready to be used for a wide variety of dishes.
Procurement
Having our own procurement channels including farms, fishing ports, processed food manufacturers and markets, we are able to procure a variety of food items, ranging from first-rate products to those that are outside the specifications in terms of shape or size. We can therefore provide cost benefits as well.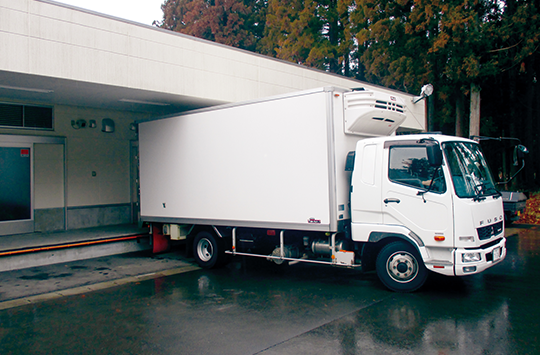 State-of-the-art freezing equipment
We use state-of-the-art freezing equipment, which is medical equipment for blood conservation, and apply a freezing technology that we have developed ourselves. This enables us to minimize the oxidization, hardening and flavor change of food items without destroying the cells of food ingredients.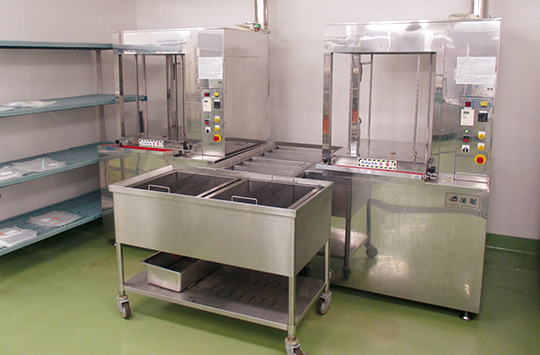 Long storage with no additives
We utilize hot-packing technology for vacuum packing freshly-made food at high temperature and liquid-freezing technology for freezing food ingredients without destroying cells. This enables food to be stored in a fresh state for a long time.